An art liaison connects art and people.
Through a personal approach, expertise, and tailor-made proposals, Benedicte Goesaert will guide you in framing a choice of art that reflects and enriches you and your personal environment.
Benedicte Goesaert is an artist liaison for collectors, curatorial projects and artist estates. During her eight years engagement as a director of Zeno X Gallery in Antwerp, Benedicte collaborated closely with international artists, galleries, leading collections and major museums.
Driven by a longstanding interest in Art History, Benedicte specialises in 20th and 21st century art with a dedicated focus on contemporary art post-1989. Having travelled extensively, she has discovered contemporary art landscapes from places as diverse as from Cape Town to Minneapolis and from Mexico City to Tokyo. While closer to home, Benedicte contributed to the international critical acclaim of Belgian painting. Establishing strong ties to the contemporary Belgian art scene, she has worked with artists such as Michaël Borremans, Dirk Braeckman, Raoul De Keyser, Mark Manders, Luc Tuymans and Anne-Mie Van Kerckhoven.
Benedicte studied Art History at the University of Ghent, where she researched and wrote her thesis on Marthe Wéry, investigating and contextualising the role of time and space in abstract and fundamental painting. This research activated a better understanding about the internal and external context of a work of art. She continues looking into the relationship of art to history and architecture, especially in the perspective of art embedded in its social environment where it is intended to meet architecture.
2021 | Watou | July 3 - September 5
40th edition Arts Festival Watou
https://www.kunstenfestivalwatou.be/en/
Read less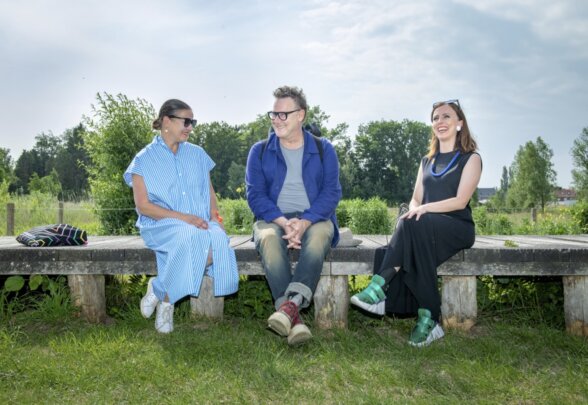 Together with colleague curators Chantal Pattyn & Peter Verhelst, I warmly invite you to the Arts Festival Watou.
The 40th edition represents movement, harmony, humanity and intensity. 'Watou 2021' is as an outstretched hand to experience poetry and visual art with brains, senses and feelings, thus being filled with the multi-layered nature of art. 'Watou 2021' starts from within mankind himself. The curators ask themselves the question: What is our role and position in this world?
The curators invite the public to look, read, feel, reflect and connect. With art, poetry, nature and one another. The arts festival has more than 30 visual artists, including Tracey Emin (GB), Mark Manders (B/NL), Neo Matloga (ZA) en Esther Kläs & Gustavo Gomes (D; picutre).
The participating poets are established names from Flanders and the Netherlands. Stefan Hertmans, who has turned 70, will be celebrated. A selection of 14 poems can also be rediscovered along the 'Watou Poems Trail 2021'. Nature and poetry come together in a bicycle ride between Poperinge and Watou.
'Watou 2021' follows a renewed and surprising route. The three corners of the route are: Watou, the artistic town itself, the centre of Poperinge and  the new location, Kasteel De Lovie, in between.
2017 | Off Road
Zeno X Gallery, Antwerp (BE)
In collaboration with Frank Demaegd, Benedicte co-curated this unique group exhibition bringing together works of art related to language, space, abstraction and the body. Eight artists were invited, including; Uri Aran, Paloma Bosquê, N. Dash, Michael Dean, Anna Maria Maiolino, Philip Metten, Solange Pessoa and Hyun-Sook Song.
2019 | ofte vojagantoj
Wilford X, Temse (BE)
ofte vojagantoj was the third exhibition in the project 360° art, initiated by the non-profit organization Wilford X in Temse. The group exhibition presented works by Neo Matloga, José Montealegre and Shirley Villavicencio Pizango.
Philippe Van Snick Estate
Strategy & Relations
Read less
Quotes by Philippe Van Snick:
My work starts from concrete experience, from things that offer themselves to me in everyday life. Whenever I am pondering an idea, an object I run into may suddenly help me to do the next move.
0-9 is an open mathematical series that is closed by our concept of infinity. We describe our position in space through mathematical concepts, a consideration of space on mathematical ground because mathematics excludes an ideology vis-à-vis infinity. The latter is not determined philosophically. Rather it involves an abstraction of a description, or approximation, of nature, defining a position vis-à-vis nature.
By using color I approach fragmentation and try to offer an analysis of that common fact. As a result, you can touch on human givens, such as meaning attribution and modes of approaching things. Red, yellow, blue, orange, violet, green, white, and black provide the possibility to interpret metaphysical givens. Gold and silver refer to the materiality of the given. Fragmentation is thereby more directed, more clearly defined. It is not only fragmentation of color as such, but also of matter, energy .. our building blocks